Happy first of December! For me, this day signifies the beginning of the Christmas season. Though the retail industry has tried to convince me that it's Christmas for the past two months or so (yes, even at Halloween), I always remember that Christmas is only in December, so I've tried to repress any festive feelings until today.
So to celebrate the start of the festive season proper, I'm today announcing the commencement of writing a suitably festive story, starring all the characters from Canadian Boys! (To get a little background on Canadian Boys, see the fifth anniversary of Canadian Boys post I wrote back in September this year.)
The title of the story, It's Christmas in the City of Canada, is a sort of parody of It's Christmas in Canada, an episode of the American adult animated TV series South Park. In that episode, Cartman and friends take Kyle's little adopted brother Ike, who is Canadian, up to Canada for the Christmas season. As is expected from South Park, numerous jokes about Canada and Canadians pop up, even cuing an amusing musical number from French Canadians in Quebec!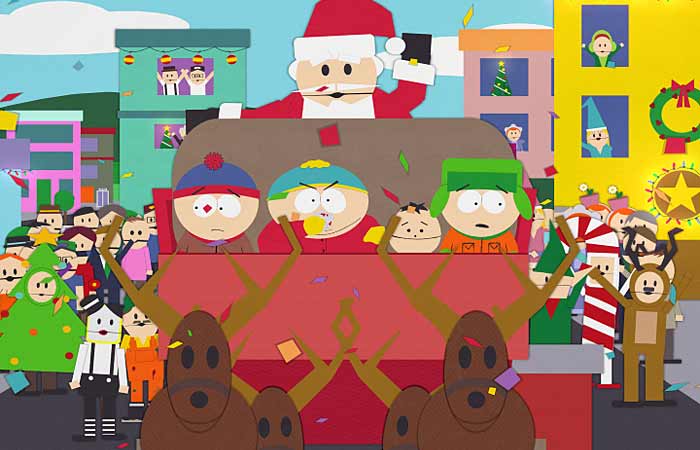 However, my actual story itself has nothing to do with South Park (other than adding a few more words to the original title). In terms of story it's more like A Christmas Carol, albeit without Scrooge or the three Ghosts of Christmas (Past, Present and Future) haunting his dreams throughout the night before Christmas. There are a few characters in the story who are like Scrooge in that they hate Christmas and don't care about other people, but who knows? They just might end up loving Christmas like Scrooge eventually does!
As I write this post, I've currently written the opening paragraphs of the story, setting the scene for Christmas Day in the City of Canada. As I complete each chapter, I'll post them up on this blog, rather like an Advent calendar – but instead of opening a door and finding chocolate inside, you'll find a little piece of festive prose starring the Canadian Boys!