When I began writing for this blog, one of the first films I reviewed was Minions (2015), a prequel to the hugely popular Despicable Me series. Since reviewing Minions two years ago, I've gotten around to watching the first two Despicable Me films. Starring the little yellow guys who have dominated the world – metaphorically – for their cute antics and obsessive love of bananas, Despicable Me can now call itself a modern hit for animation, and a franchise. Because it's now a trilogy! (Or a quadrology, if you count Minions.)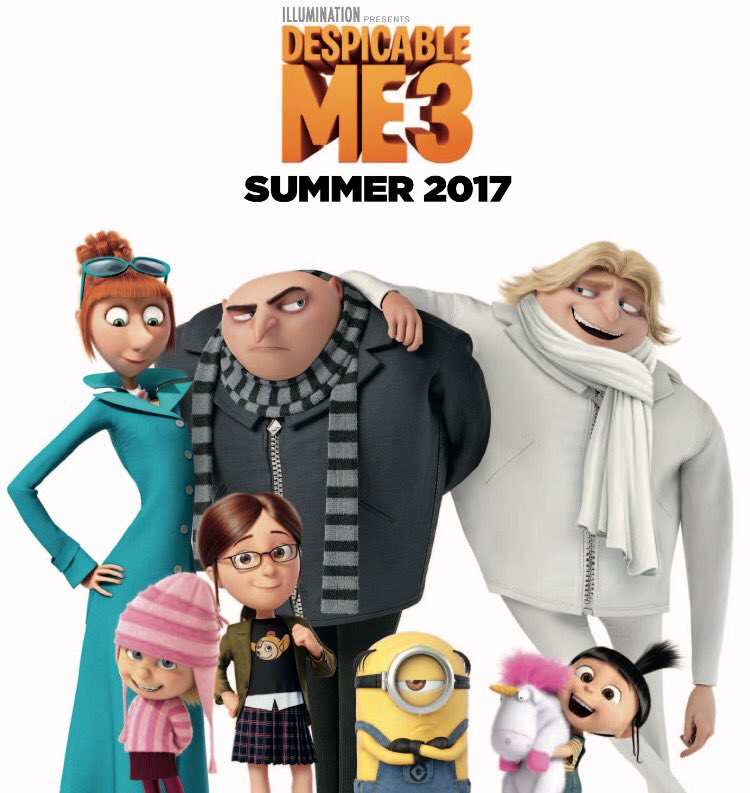 The third film in the series once again stars the good bad guy Gru and his adopted family, which includes his wife Lucy (whom he married at the end of the second film), his foster daughters Margo, Edith and Agnes, and of course the Minions. But a new member has joined the family – not a baby or Minion, but rather Gru's long-lost twin brother, Dru! (He's on the right in a white outfit and has blonde wavy hair, unlike his bald brother.)
Gru finds out about Dru from his mother, who is amazingly still living with his father even in her autumn years. As babies, they were separated from each other, and so Gru forgot that he even had a twin brother until now. Now adults, Gru reunites with Dru at his grand mansion on the island of Fredonia, and he coerces him into pulling off one more heist. (So there won't be a Despicable Me 4, then?)
While Gru is a little more serious, his twin brother is the total opposite – flamboyant, bubbly and easily excitable by just about anything. This creates a fun clash of personalities which the previous two films didn't seem to have, where Gru tries to inject some sense into Dru's rushes of eagerness to execute another successful dirty deed of villainy. As of this film, Gru has tried to retire from the whole villainous scene, due to being fired from the Anti-Villainy League. A little bit of untied plot knots come loose here, however, since they are never mentioned or heard from for the rest of the film. Did Gru and Lucy ever get their jobs back?
Each Despicable Me film (including Minions) has its own distinctive villain or villains. The first had Dr. Nefario and Vector, the second had El Macho, and the third has Balthasar Bratt – a former child star whose fashions and tastes seem to be permanently stuck in 1982, with his purple jumpsuit, shoulder pads, Rubik's cubes, classic video game arcade machines and 1980s pop hits. Back in its heyday, his show Evil Bratt was very popular, but when he hit the teenage years it was cancelled without the series finale ever being aired. Furious at the show's cancellation, Bratt went on a destructive rampage of Hollywood, blaming them for the cancellation and his subsequent fade into obscurity. Now 43 years old, he vows to break back into Hollywood with a vengeance – with pink bubblegum balls he shoots from a laser gun, and a keytar.
(Fun fact: Bratt is voiced by Trey Parker, one of the creators of South Park, which is why his voice may sound familiar to people of a certain generation. Coincidentally, Benjamin Bratt voiced El Macho, the villain of the second Despicable Me film. This was probably intentional.)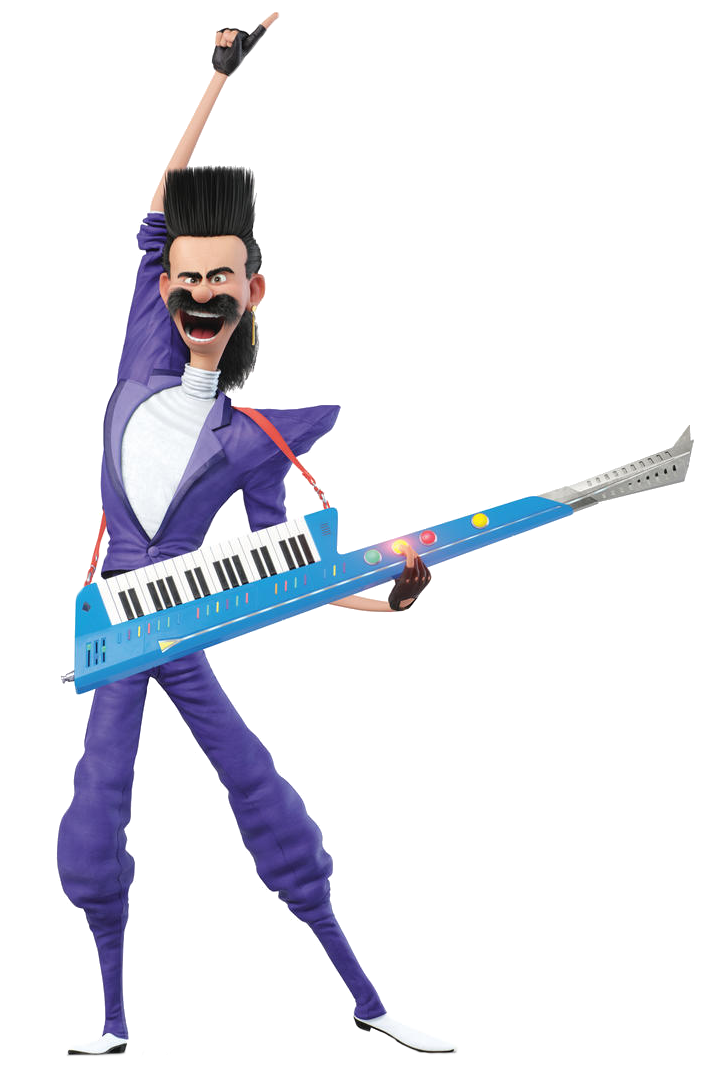 As in all the Despicable Me films to date, the Minions are the centrepiece. This time, however, they don't get much of screen time as they did in the previous films, as this film mostly centres on Gru getting to know Dru. They do have a short time in the spotlight – literally – when they accidentally end up on a talent show called Sing! (possibly a reference to Illumination's previous film Sing), and are forced to do exactly that to win the audience and judges' appeal. The police catch up with them, and they are hauled off to the island prison, where they play their usual pranks on the other prisoners – and attempt a prison breakout.
Now that Gru has reunited with his long-lost twin brother that he'd never even knew before this opens up a potential new storyline for future Despicable Me films – and a few plot holes. The flashback scenes in the previous films didn't include Dru, though this could probably be due to Gru being only a baby at the time, and thus too young to remember anything. But I could be probably getting too philosophical about it, since it's only a cartoon, and cartoons don't necessarily have consistent continuities.
With the level of success and popularity it enjoys, rather than come up with a Despicable Me 4 (which would cause it to come down with a bad case of 'sequelitis'), I want to propose right here that the Despicable Me franchise be made into a TV cartoon series. This would allow more character development for Gru, his adopted family and the Minions, and in true Saturday morning cartoon-style, introduce a new villain to be defeated each episode. Sound like a good idea, Cartoon Network, Disney Channel, or Nickelodeon?
Save
Save
Save