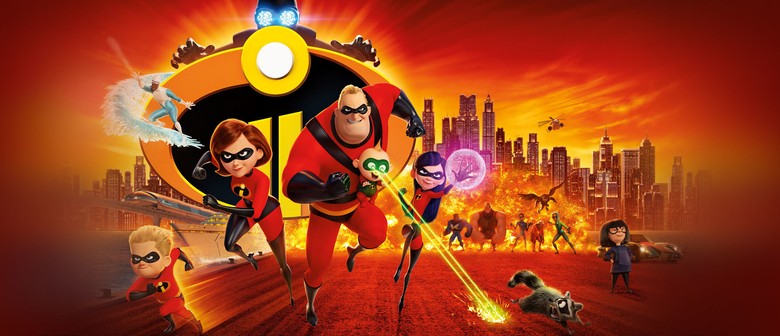 Movie Factfile
Name: The Incredibles 2
Year: 2018
Genre: Action/Comedy/Animation
Directed By: Brad Bird
Starring: Craig T. Nelson, Holly Hunter, Sarah Vowell
My Rating: ⭐⭐⭐⭐
Plot
Sequel to The Incredibles (2004). Having gone into retirement and living at a new home away from their action-packed lives as superheroes, the Incredible family is dragged back out of hiding to save the world from more villains.
My Thoughts
Pixar seems to be a rare proprietor of the successful sequel; Toy Story 2 and Finding Dory come to mind. Now they follow up their superhero caper, The Incredibles, with a sequel that's been 14 years in the making…
Picking up right where the first film ended, the movie once again follows the Incredible family of superheroes – Mr. Incredible with his super-strength, Elastigirl with her stretchy body and limbs, Dash with his super-speed, Violet with her forcefields and invisibility, and baby Jack-Jack… with some new powers of his own.
In an era of feminism and the #MeToo anti-sexual harassment movement, Elastigirl – real name Helen Parr – is the hero (or heroine) of the sequel, flying high (quite literally) at her new job. Mr. Incredible – or Robert Parr – shows off the 'new man' phenomenon in her absence, helping the kids with their homework, personal matters and Jack-Jack finding his powers. Fan favourite Frozone – AKA Uncle Lucius – also makes an ice-cool return, as do some new superheroes… one with a rather unusual superpower.
The ending – without spoiling too much – leaves open the possibility for an entire Incredible trilogy, something previously achieved with Toy Story and Cars. Pixar never rushes their sequels unlike others, however, so it could be another few years before we see an Incredibles 3.
If there is going to be one… it'll be the perfect finish to an 'incredible' trilogy!
Warning
The Incredibles 2 contains several scenes of flashing strobe lights which may be unsuitable for viewers with epilepsy.