As my obsession with Copic markers continues and my collection grows, I've made a list containing all the colours of the Copic rainbow. There are just about 360 colours in all!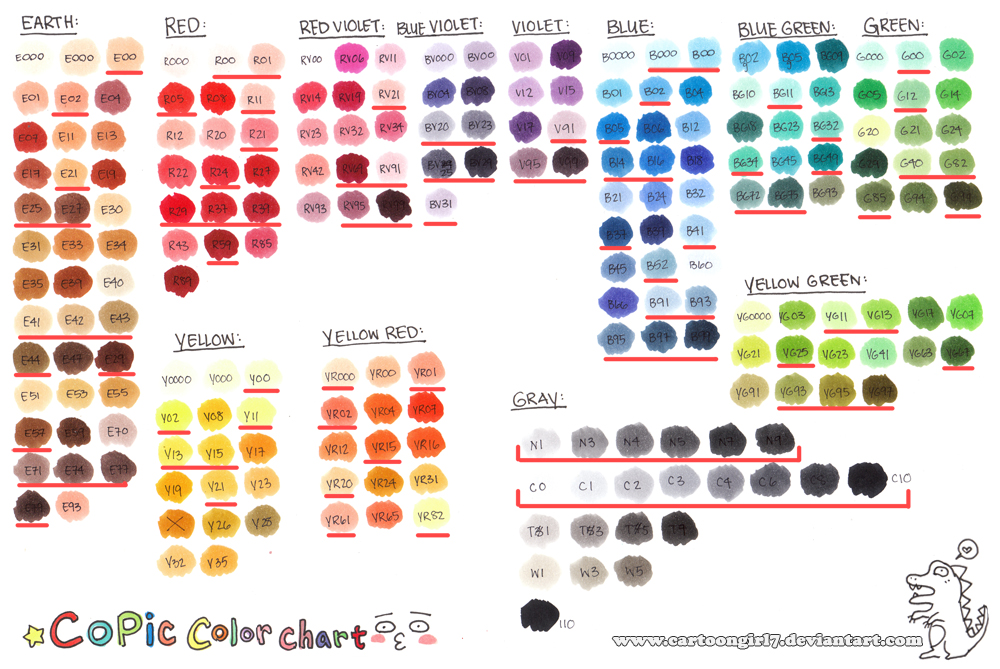 (The colours with ticks beside their names are colours in my collection. I may have more than one marker per colour.)
Pink Beryl
Cherry White
Pinkish White ✅
Pinkish Vanilla
Rose Salmon
Salmon Red
Vermilion
Pale Cherry Pink
Light Tea Rose
Light Rouge
Lipstick Orange
Blush
Sardonyx
Light Prawn
Prawn
Cadmium Red
Lipstick Red
Pale Yellowish Pink
Peach
Coral
Carmine
Garnet
Bougainvillea
Strong Red
Currant ✅
Cardinal ✅
Rose Pink
Rose Mist
Rose Red
Dark Red
Pale Chiffon
Silk
Powder Pink
Peach Puff
Light Orange
Chrome Orange
Cadmium Orange
Chinese Orange
Loquat
Caramel
Pumpkin Yellow
Apricot
Sanguine
Yellowish Shade
Cream
Yellow Ochre
Pale Sepia
Tuscan Orange
Macadamia Nut
Light Reddish Yellow
Spring Orange
Atoll
Mellow Peach
Yellow Fluorite
Pale Lemon
Barium Yellow
Canary Yellow
Acacia
Yellow
Acid Yellow
Pale Yellow
Lemon Yellow
Golden Yellow
Lightning Yellow
Napoli Yellow
Buttercup Yellow
Yellowish Beige
Mustard
Cashmere
Maize
Honey
Lily White
Mimosa Yellow
Green Bice
Yellow Green
Salad
Yellowish Green
Acid Green
Lettuce Green
Mignonette
Chartreuse
Grass Green
Anise
New Leaf
Celadon Green
Pale Cobalt Green
Cobalt Green
Pale Moss
Pea Green
Moss
Putty
Greyish Yellow
Spanish Olive
Marine Green
Crystal Opal
Pale Green
Jade Green
Spectrum Green
Meadow Green
Emerald Green
Nile Green
Veronese Green
Sea Green
Apple Green
Malachite
Forest Green
Bright Parrot Green
Wax White
Lime Green
Willow
Ocean Green
Pine Tree Green
Dim Green
Pistachio
Mistletoe
Spring Dim Green
Greyish Olive
Olive
Snow Green
Pale Aqua
Aqua Blue
New Blue
Holiday Blue
Petroleum Blue
Blue Green
Cool Shadow
Moon White
Mint Green
Aqua
Teal Blue
Coral Sea
Aqua Mint
Horizon Green
Nile Blue
Duck Blue
Ice Mint
Jasper
Ocean Mist
Ice Ocean
Abyss Green
Bronze
Grey Sky
Green Grey
Bush
Flagstone Blue
Pale Celestine
Pale Porcelain Blue
Frost Blue ✅
Mint Blue
Robin's Egg Blue
Tahitian Blue
Process Blue
Peacock Blue
Ice Blue
Light Blue
Cyanine Blue
Lapis Lazuli ✅
Baby Blue
Phthalo Blue
Sky ✅
Cobalt Blue
Royal Blue ✅
Ultramarine ✅
Pale Blue
Manganese Blue
Antwerp Blue ✅
Prussian Blue ✅
Powder Blue
Smoky Blue
Soft Greenish Blue
Pale Blue Grey ✅
Light Hydrangea
Clematis
Stratospheric Blue
Iris
Pale Greyish Blue
Light Crockery Blue ✅
Light Greyish Cobalt
Night Blue ✅
Agate ✅
Pale Thistle
Iridescent Mauve ✅
Mauve Shadow
Viola
Prune
Blue Berry
Blue Violet
Soft Violet
Hydrangea Blue
Deep Reddish Blue
Dull Lavender
Greyish Lavender
Greyish Violet
Slate
Bluebell
Rose Quartz
Pale Heath
Heath
Lilac
Azalea
Marigold
Lavender
Violet
Pale Lilac
Mallow
Amethyst ✅
Wisteria ✅
Ash Lavender
Pale Blackberry
Eggplant
Pale Grape
Early Grape
Light Grape
Aubergine
Evening Primrose
Pale Purple
Water Lily
Sugared Almond Pink
Shock Pink
Cerise
Fuchsia
Pale Pink
Pink
Tender Pink
Begonia Pink
Deep Magenta
Red Violet
Light Pink
Pure Pink
Dog Rose Flower
Crimson
Shadow Pink
Dark Pink
Salmon Pink
Cotton Candy
Hollyhock
Begonia
Raspberry
Peony ✅
Greyish Cherry
Baby Blossoms
Smoky Purple
Argyle Purple
Fluorescent Orange
Fluorescent Yellow
Fluorescent Dull Yellow Green
Fluorescent Dull Blue Green
Fluorescent Dull Blue
Fluorescent Dull Violet
Fluorescent Pink
Floral White
Pale Fruit Pink
Cotton Pearl ✅
Pink Flamingo
Fruit Pink
Lipstick Natural
Light Mahogany
Brown ✅
Burnt Sienna
Barley Beige
Light Suntan
Dark Suntan
Reddish Brass
Copper
Redwood
Soft Sun
Hazelnut
Caribe Cocoa
Milk Chocolate
Burnt Umber ✅
Bisque
Brick Beige
Sand ✅
Toast
Chamois
Sepia
Leather
Brick White
Sand White
Pearl White
Dull Ivory
Clay
Dark Brown ✅
Dark Bark ✅
Egg Shell
Milky White ✅
Raw Silk
Light Camel
Light Walnut
Walnut
Ash Rose
Champagne
Cocoa Brown
Maroon
Cashew
Ivory
Khaki
Fig
Pecan
Tea Rose
Tea Orange
Deep Orange
Baked Clay
Cool Grey No. 00
Cool Grey No. 0
Cool Grey No. 1 ✅
Cool Grey No. 2
Cool Grey No. 3 ✅
Cool Grey No. 4
Cool Grey No. 5 ✅
Cool Grey No. 6
Cool Grey No. 7 ✅
Cool Grey No. 8
Cool Grey No. 9
Cool Grey No. 10
Neutral Grey No. 0
Neutral Grey No. 1
Neutral Grey No. 2
Neutral Grey No. 3
Neutral Grey No. 4
Neutral Grey No. 5
Neutral Grey No. 6
Neutral Grey No. 7
Neutral Grey No. 8
Neutral Grey No. 9
Neutral Grey No. 10
Toner Grey No. 0
Toner Grey No. 1
Toner Grey No. 2
Toner Grey No. 3
Toner Grey No. 4
Toner Grey No. 5
Toner Grey No. 6
Toner Grey No. 7
Toner Grey No. 8
Toner Grey No. 9
Toner Grey No. 10
Warm Grey No. 00
Warm Grey No. 0
Warm Grey No. 1
Warm Grey No. 2
Warm Grey No. 3
Warm Grey No. 4
Warm Grey No. 5
Warm Grey No. 6
Warm Grey No. 7
Warm Grey No. 8
Warm Grey No. 9
Warm Grey No. 10
Black ✅
Special Black ✅
Blender
Empty Marker
I also have a downloadable PDF containing all ~360 colours in swatch form.